Cyber security in the UK and Europe: critical infrastructure, collaboration and skills
Thursday, 16th May 2013
This event is CPD certified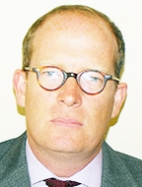 James Quinault
Guest of Honour: James Quinault, Director, Office of Cyber Security and Information Assurance
Following the launch of the EU's 'Cybersecurity Strategy' and as the UK Government continues to spearhead ongoing initiatives to address both cyber security and protecting children online, delegates will examine the policy priorities as well as the development of innovation and skills for webspace that is secure and safe for UK citizens, business and government.

Discussion will focus on the collaborative UK and international efforts across public, private and third sector, and end users, to share knowledge and agree standards for internet security. Planned sessions assess the development of the UK Cyber Security Strategy, the means of protection for businesses and individuals from eCrime as well as the options to boost business and consumer confidence and skills in online security, particularly for young and inexperienced users.

Jeff Parker, Director of Projects, International Cyber Security Protection Alliance (ICSPA); Steve Purser, Head of Core Operations Department, ENISA and James Quinault, Director, Office of Cyber Security and Information Assurance have agreed to deliver keynote addresses at this seminar.

Dr Louise Bennett, Chair, Security Community of Expertise and Chair, Identity Assurance Working Group, BCS: The Chartered Institute for IT; Cath Goulding, Head of Information Security, Nominet UK; Philip James, Partner, Pitmans; Martin Jordan, Head of UK Cyber Response, KPMG; Tim McGarr, Sector Content Manager (Risk & Business Continuity), Governance & Resilience, BSI; Tony Neate, Chief Executive Officer, Get Safe Online; Ian Parrett, Director of Communications, Smoothwall; Martin Smith, Chairman and Founder, The Security Company and Sir Kevin Tebbit, Senior Advisor, Hewlett Packard; Director of GCHQ (1998) and Permanent Under Secretary of the Ministry of Defence (1998-2005) have also agreed to speak.

The Earl of Erroll, Chairman, Digital Policy Alliance and Russell Brown MP, Shadow Minister for Defence, International Security Strategy have kindly agreed to chair at this seminar.