The future for local media - TV, print, radio and the web
Thursday, 30th May 2013
This event is CPD certified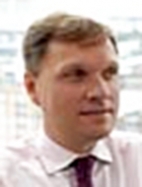 Peter Davies
Guest of Honour: Peter Davies, Director, Content Policy, Ofcom
The seminar will offer an opportunity to discuss the future for the UK's local media as it prepares for the first broadcasts of local television by the end of 2013 and as local newspaper owners - such as Johnston Press and Local World - continue to evolve their businesses to secure their futures in a convergent market.

Delegates will also consider the emerging options for local content providers, including radio and print as well as the web and new TV services, to exploit synergies and share resources to deliver long-term financial sustainability. The agenda also includes discussion on the future of hyperlocal content, in the context of the rise of sites such as fixmystreet, and increasing consumer ownership of devices - such as smart-phones and tablet PCs - enabling the delivery of location-based services.

We are delighted that Steve Auckland, Chief Executive, Local World; Peter Davies, Director, Content Policy, Ofcom; Ed Hall, Chief Executive, Comux UK and William Perrin, Founder, Talk About Local and Member, Local Public Data Panel, data.gov.uk have agreed to deliver keynote addresses at this seminar.

Further confirmed speakers include: Geraldine Allinson, Chairman, KM Group; Jimmy Buckland, Director of Strategy, UTV; Jamie Conway, Chief Executive, Made Television; Andrew David, Managing Director, Siren FM and Chair, Community Media Association; Roy Greenslade, Professor of Journalism, City University London; Bobby Hain, Director of Channels, STV; Sean Kelly, Managing Director, Neighbour Net; Jon Kingsbury, Director, Creative Economy Innovation Programmes, NESTA; Tim Kirkman, Chief Operating Officer, ESTV - London Live; Thomas Laranjo, Managing Director, Total Media; Douglas McCabe, Analyst, Enders Analysis and Simon Perry, Editor, On The Wight.

Roger Parry, Chairman and Co-founder, MSQ Partners; Author, Creating Viable Local Multi-media Companies in the UK (2009) and former Chairman, Johnston Press (2001-2009) and Professor Stewart Purvis, Professor of Television Journalism, Department of Journalism, City University London has kindly agreed to chair part of this event.