Cloud computing - reliability, security and data protection
Tuesday, 11th December 2012
This event is CPD certified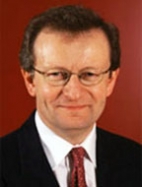 Andy Nelson
Guest of Honour: Andy Nelson, HM Government Chief Information Officer
This timely seminar will focus on possible changes to the legal and regulatory framework underpinning cloud computing and the emerging opportunities for business and governments, in the context of the European Commission's recently launched cloud computing strategy and issues emanating from the European Data Protection Framework (EDPF) Review.

Delegates will consider emerging options to capitalise on the UK's regulatory and data protection regimes to attract investment in cloud services, data centres and startups as well as the cost to business of cloud migration. Planned sessions also focus on the challenges to the creation of the harmonised legal frameworks, SLAs (Service Level Agreements) and EUAs (End User Agreements) standardisation, and options to clarify cross-border legal jurisdiction challenges. The agenda also includes discussion on next steps for public sector IT, following the launch of the second G-Cloud framework, 'G-hosting' consultation and considering the impact of the Government's 'cloud-first' and 'open standards' approaches.

We are delighted that Andy Nelson, HM Government Chief Information Officer; Ken Ducatel, Head of Unit, Software and Services, Cloud Computing, DG Connect, European Commission and Dr Mark Ferrar, National Technology Officer, Microsoft UK have kindly agreed to deliver keynote addresses at this seminar.

Thomas Boué, Director of Government Affairs, EMEA, BSA | The Software Alliance; Peter Dawes-Huish, Chief Executive Officer and Chairman, LinuxIT; Richard Jones, Senior Associate and Director of Data Privacy, Clifford Chance; Stephanie Liston, Senior Counsel, Charles Russell; Dr Louis Samuel, Chief Architect Software, Services, and Solutions Business Group (S3G), Alcatel-Lucent; Mac Scott, Associate Director, CIO Advisory, KPMG; Andy Tait, Head of Public Sector Strategy, VMWare; Professor Ian Walden, Professor of Information and Communications Law and Head, Institute of Computer and Communications Law, Centre for Commercial Law Studies, Queen Mary, University of London; Conor Ward, Partner, Hogan Lovells and Chair, Cloud Industry Legal Forum and David Wilde, Chief Information Officer, Essex County Council have also kindly agreed to speak at this seminar.

Chi Onwurah MP, Shadow Minister for Innovation, Science and Digital Infrastructure and Nigel Adams MP, Vice-Chair, PICTFOR have kindly agreed to chair this seminar. Additional senior participants are being approached.