The future of free-to-air TV - competing infrastructure, platforms and content
Tuesday, 26th June 2012
This event is CPD certified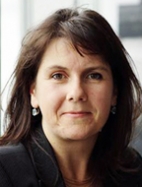 Ilse Howling
Guest of Honour: Ilse Howling, Managing Director, Freeview
This seminar is supported by Digital TV Group

As digital switchover nears completion this timely seminar will look at the challenges and next steps for free-to-air television in the UK.

The event will offer an opportunity for delegates to consider the drivers of growth in free-to-air (FTA) as digital TV becomes simply 'TV', the effect of competition both with PayTV and between the established FTA operators - Freeview and Freesat - and the as yet to launch Youview service. Delegates will also discuss the options for FTA innovation - such as through new content, set top box features and development of multi-screen viewing - and, with Ofcom assessing the role of ATVOD, the regulatory challenges posed to broadcasters by increasing web and TV convergence and the strategic challenges for free-to-air operators attempting to both retain the value of their live schedules while increasing the availability of on-demand and catch-up services.

We are delighted that Ilse Howling, Managing Director, Freeview; James Jackson, Head of Commercial Management, BBC and Richard Lindsay-Davies, Chief Executive Officer, Digital TV Group (DTG) have agreed to deliver keynote addresses at this seminar.

Further speakers include: Will Abbott, Marketing & Communications Director, Freesat; Kim Chua, Strategy Consultant, Value Partners Management Consultants; Michael Comish, Co-founder and Chief Executive Officer, blinkbox.com; Charles Constable, Managing Director, Digital Platforms, Arqiva; Darren Fawcett, Chief Technology Officer, Pace; Professor Sylvia Harvey, Visiting Professor, Institute of Communications Studies, University of Leeds and Trustee, Voice of the Listener & Viewer; Paul Herbert, Partner, Goodman Derrick; Adam Kinsley, Head of Policy, BSkyB; Anthony Lukom, Vice President and Managing Director, UK and Ireland, Turner Broadcasting; Adrian Northover Smith, Head of Corporate Public Affairs, Sony UK; Jean-Marc Racine, Managing Partner, Farncombe; Martin Stott, Head of Corporate and Regulatory Affairs, Channel 5 and Gavin Sugden, Research Director, Ipsos MediaCT.

Helen Goodman MP, Shadow Minister for Culture, Media and Sport and Sir Peter Bottomley MP, Secretary, All-Party Parliamentary Group on Digital TV Switchover have kindly agreed to chair at this seminar.