Health Inequalities - one year on from the Marmot Review
Thursday, 17th February 2011
This event is CPD certified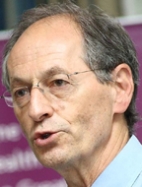 Professor Sir Michael Marmot
Guest of Honour: Professor Sir Michael Marmot, President, British Medical Association, Lead on the Health Inequalities Post 2010 in England review and Director, International Institute for Society and Health, University College London
Timed to take place one year on from the publication of Professor Sir Michael Marmot's major review into health inequalities in England - and including a keynote address from Professor Marmot - this seminar will look at the impact of the Review and what more can be done to tackle social determinants of health and reduce further health inequalities across the UK. Sessions will also examine how public health and health inequalities will be addressed in light of the proposed NHS structural and commissioning reforms, and the Public Health White Paper.

We are delighted to be able to include in this seminar keynote presentations from Professor Sir Michael Marmot, President, British Medical Association, Lead on the Health Inequalities Post 2010 in England Review and Director, International Institute for Society and Health, University College London; Professor Nick Bosanquet, Professor of Health Policy, Imperial College London and Chairman, Volterra Health; Mark Davies, Director of Health Inequalities and Partnership, Policy and Strategy Directorate, Department of Health and Professor Alan Maryon-Davis, Honorary Professor of Public Health, King's College London.

Further speakers include Dolan Cummings, writer and campaigner, The Manifesto Club; Dr Clare Gerada, Chair of Council, Royal College of General Practitioners; Dr Alison Giles, Chief Executive, Our Life; Tim Gilling, Deputy Executive Director, Centre for Public Scrutiny; Dr Bill Gunnyeon, Chief Medical Adviser and Director for Health, Work and Wellbeing, Department for Work and Pensions; Dr Patrick Hutt, Clinical Associate, Research Department of Primary Care and Population Health, University College London, and Junior Editor, InnovAiT; Graham Jukes, Chief Executive, Chartered Institute of Environmental Health; Jo Webber, Deputy Director of Policy, NHS Confederation and Professor John Wilkinson, Director, North East Public Health Observatory.

Professor Alan Maryon-Davis, Honorary Professor of Public Health, King's College London and Dr Tessa Richards, Assistant Editor, BMJ Editorial have kindly agreed to chair at this event.