Digital marketing: innovation, convergence and regulation
Thursday, 31st October 2013
This event is CPD certified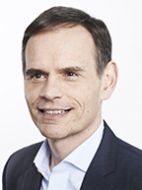 David Sear
Guest of Honour: David Sear, Chief Executive Officer, Weve
In the context of strong growth and rapid innovation in online and mobile advertising, this seminar will offer delegates an opportunity to examine latest developments in the regulatory challenges and commercial opportunities of digital marketing.

Planned sessions examine how 4G connectivity, 'big data' and new applications, such as NFC, are making new marketing opportunities possible. Also, in the context of the Government's anticipated communications strategy, delegates will hear the latest thinking on the convergence in advertising platforms, pseudonymised consumer data and marketing to young people. Alongside public policy issues, sessions will focus on the role of self-regulation and industry initiatives, including the ISBA/IPA online brand safety scheme and good practice in ad-trading markets to ensure appropriate advertisement positioning on online platforms.

We are delighted that Daniel Bugler, Associate, Lewis Silkin; David Ellison, Senior Marketing Manager, ISBA; David Sear, Chief Executive Officer, Weve and Nick Stringer, Director of Regulatory Affairs, IAB UK have agreed to deliver keynote addresses at this seminar.

Further speakers include: Timothy Abraham, Director, Data and Audience EMEA, Xaxis; Mike Baker, Chief Executive Officer, Outdoor Media Centre; Professor Patrick Barwise, Emeritus Professor of Management and Marketing, London Business School and Chairman, Which?; Graeme Benge, Digital Marketing Executive, Koozai; Giles Crown, Head of Media Brands and Technology, Lewis Silkin; Andy Hart, Vice President, Advertising and Online Europe, Microsoft; Martin Hayward, Head of Global Digital Strategy, Aimia; Tom Jefferies, Senior Manager, Deloitte; George Pappachen, Chief Privacy Officer, Kantar and Vice President, Global Strategy Director, The Data Alliance and Michael Wrigley, Chief Marketing Officer, EngageSciences.

John Hemming MP, Chair, All-Party Parliamentary Group on New Media and Lord Razzall, Member, House of Lords Communications Committee have kindly agreed to chair this seminar.